About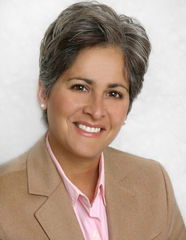 I was born and raised in New York City and never thought twice about leaving the hustle and bustle of the Tri-State area – that is- until I visited Southern Arizona (Tubac) in the summer of 2003. After a career in the fashion industry, my partner and I decided it was time to leave chilly Connecticut and head West for a new and sunny adventure.
I instantly fell in love with Southern Arizona's "Big Sky", starry nights, and breathtaking sunsets. The western style life we lead in Tubac is relaxed and stress-free with not one traffic light!
A career in real estate was the perfect choice for me. I highly value customer service with an emphasis on "good listening" skills, and I get a lot of joy in matching the perfect property with my client's needs, wants and budgets.
My greatest satisfaction is helping clients find beautiful new properties where they can imagine and begin their own western adventures!